TURBOCHARGERS FOR SUBARU WRX/STI (EJ ENGINE)
Here is our turbocharger selection guide we offer a complete range of Subaru turbochargers from 165wkW to 250wkW.
All our Subaru turbochargers are bolt on and water cooled and come complete with oil and water pipes and gaskets.
Normal basic supporting mods (turbo back exhaust and good intake) with suitable ECU adjustment are required
to achieve the numbers indicated**
**NOTE: Power levels over 205wKw typically require a suitable "front mount" intercooler upgrade.
The data is based on our own testing and actual customer supplied dyno sheets.
Note: While there is some overlap on the numbers be aware that the bigger turbo will "hang on" longer at the top end.
The plus sign indicates more power is available from the turbocharger but the engine typically will
only produce the power level indicated.
The guide is based on performance using typical street boost range of 17-20psi using 98RON fuel.
If you have a full competition application please contact us regarding your requirements.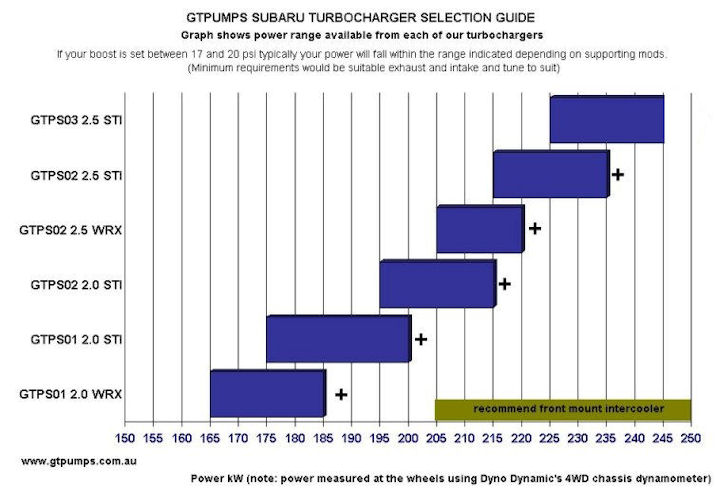 GTPS01 (TD05H-7cm-1610ET) $1695.00
GTPS02 (TD05H-7/8cm-2010ET) $1860.00
GTPS02CP (TD05H-7/8cm-2010ET) MY06-MY07 WRX, MY06-MY09 STi $1860.00
GTPS02TM (TD05H-7/8cm-2010ET) MY08-09 WRX, LibertyGT $1860.00
GTPS02T twin scroll (TD05H-2010ET) $1890.00
(note: 1810ET available special order on all GTPS02 models)
GTPS03.5 (TF06-712GTP 7/8cm) $1960.00
GTPS03.5CP (TF06-712GTP 7/8cm) MY06-MY07 WRX, MY06-MY09 STi $1960.00
GTPS03.5TM (TF06-712GTP 7/8cm) MY08-09 WRX, LibertyGT $1960.00
GTPS03.5T twin scroll (TF06-712GTP) $1960.00
GTPS04-762GTP (TD06S-762GTP 7/8cm) $2300.00
GTPS05-762GTP (TD06HS-762GTP 7,8,10cm) $2400.00
---

GTPS01

GTPS01

The GTPS01 uses a TD05H turbine with a 7cm turbine housing and 1610ET compressor wheel. To suit WRX1997-2005. Direct replacement for stock TD04 or IHI turbo**. This turbo supports 380HP.

(**Note: supporting mods and ECU re-mapping required)

$1695.00

This dyno sheet shows the GTPSO1 performance as fitted to a stock MY05 STi with 3" exhaust and Haltech intercepter
 at 14psi and 18psi. This is a great sport upgrade turbo for road and track days.

Dyno sheet provided by NRG Performance www.nrgauto.com.au

---

GTPS02

Various versions of the GTPS02 & GTPS03.5 available to suit all WRX/STi models.

---

GTPS02T & GTPS03.5T

New GTPS02T twin scoll fantastic for 2.5 twin scroll applications. Offers around 20% more flow than VF36/37. Note: requires suitable twin scroll exhaust and dump.

(Note: GTPS02T & GTPS03.5T special order)

$POA

---

GTPS02

Our GTPS02 uses a TD05H turbine with a 7cm or 8cm turbine housing and 2010ET compressor wheel. Comes with Turbosmart actuator. Various versions for all Subaru WRX MY1997-2014 and STi MY1997-2015.

$1860.00

This turbo is perfect for STi 2.0 and great for 2.5 litre engines.

Supports 425HP. GTPS02 dyno sheet below shows EJ257 (with Ver6 STi heads and cams, headers and FMIC)

Dyno sheet provided by NRG Performance www.nrgauto.com.au

---

GTPS02TM

This turbo is a direct bolt in upgrade for MY08-14 WRX and Liberty GT. Comes with Turbosmart actuator.

$1860.00

Massive upgrade in performance compared to the stock MY08 TD04 turbocharger. MY08 test dyno sheet provided by OPM Sport. Car mods were turbo back TurboXS exhaust, Process West TMIC, Walbro fuel pump and stock ECU with Ecutek tune. Boost was the same 15psi for the TD04 and GTPS02TM test, however as you can see the TD04 was unable to flow enough air to maintain 15psi once over 4000RPM.

---

GTPS03.5

The GTPS03 uses a TF06 turbine with a 7cm2 or 8cm2 turbine housing and billet 712GTP compressor wheel. Comes with Turbosmart actuator.

This turbo supports 440HP

GTPS03.5 dyno sheet below shows EJ207 2.0 litre (with cams, headers, E85 fuel and FMIC)

GTPS03.5

$1960.00

GTPS03.5TM

This turbo is a direct bolt in upgrade for MY08-14 WRX and Liberty GT. Comes with Turbosmart actuator.

$1960.00

---

GTPS04-762GTP LWT

The GTPS04-762GTP LWT uses a TD06S LWT turbine with a 8cm2 turbine housing and billet 762GTP compressor wheel. Note: this turbo has 3" intake. Comes with Turbosmart actuator.

This turbo supports 470HP

GTPS04-762GTP dyno sheet below shows GC8 with built 2.5 litre 360.2wkW on E85 fuel and 26psi boost.

GTPS04-762GTP LWT

$2300.00

---

GTPS05-762GTP

The GTPS05 uses a TD06HS turbine with a 7cm2 or 8cm2 turbine housing and billet 762GTP compressor wheel. Comes with Turbosmart actuator.

This turbo supports 500HP

$2400.00

---